НОВИНКА!
- Оптовая продажа отрезных и зачистных кругов
Подробнее>>
---
Проволока с ПВХ покрытием
Подробнее>>
---
В продаже появились:
- Технологические газы компании "Линде Газ"
Подробнее>>
---
- Комплектующие и расходники для сварки и металлообработки
Подробнее>>
---
- Оцинкованая проволка
Подробнее>>
Wire for fastening nails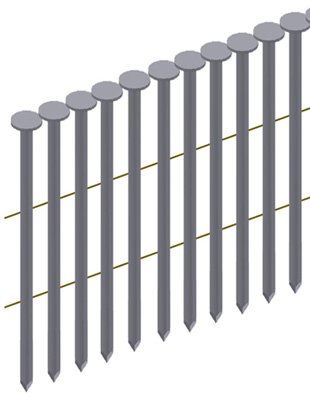 We produce wire (copper-plated) for fastening nails in bobbins, which are used in pneumatic guns.
Drum nails or coil nails are used in air guns. One worker with a pneumatic gun and a set of nails is able to replace several people using a hammer and ordinary nails. It is becoming increasingly widespread in construction, wooden house-building, for the production of containers of wooden crates, for fastening wooden pallets, Euro pallets and containers, floorboards and wooden structures where high joint strength is required.
Coil nails are divided into three groups: screw nails, screw drilled nails, drum nails "ordinary".
Drum nails are sometimes called nails in holders, nails in bobbins, nails in cassettes or nails in rolls, which are essentially the same thing.
The clip or bobbin or drum or cassette is a tape consisting of nails fastened to copper-plated wire.
Nails welded with wire are very convenient to use when you are working with a pneumatic tool.